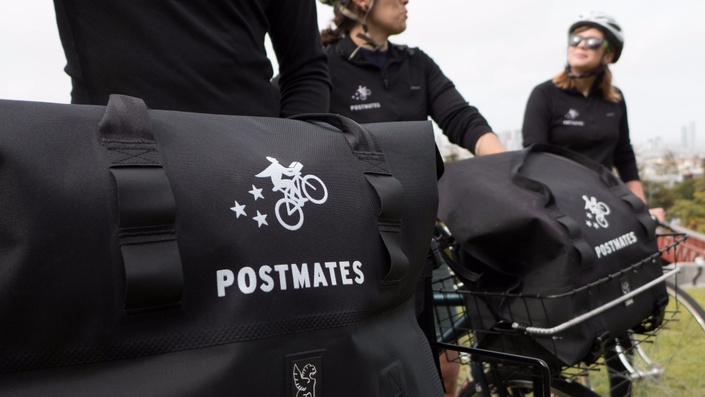 The Beginner Postmates, Doordash, Caviar Courier and Instacart Shopper Training Course
Everything you need to know about deliveries and maximizing your income.
We believe that all on-demand workers should get the proper knowledge about various companies so that they can make informed choices about when and who to work for and to maximize their earnings.
Deliveries is a great source of income for many independent contractors, rideshare drivers or anyone looking to make extra income. The busiest times for deliveries is often the slowest times for other services like Uber and Lyft. Deliveries is great for a part time job since many full time workers can work during the dinner rush hour or on weekends.
Delivery drivers can make on average $15-20 an hour on a mixture of base delivery fees and tips. Experience delivery drivers can make upwards of $25 if they choose the right location and times to work.
There have been more and more delivery drivers being hired right now that is taking advantage of this untapped market. Taking this training course will give anyone a leg up on other delivery couriers and helps drivers make an informed decision about which service to work for.
You don't need to be employed with these services to take this training course. This course is open to everyone and if you haven't worked for any of these companies, this is a great place to start to find out more about these services and pick the ones that works best for you. We have done all the research so you don't have to!
As an on-demand courier and shopper, there is very little training involved. These company's limit their training to ensure we get classified as independent contractors, which saves these companies a lot money due to not having to reimburse us for mileage, paying us minimum wage, over time pay, and other employee related expenses. This causes many couriers and shoppers to be less efficient than they should be, leading to less income. When couriers are informed about all services, even for those they don't work for, they can properly choose which service to work for and maximize their satisfaction and income.
Below is a quick course outline.
Deliveries Introduction
Why work for deliveries?
What is the difference between rideshare (Lyft/Uber) and deliveries?
Quick summary difference between Instacart, Amazon Flex, Postmates, Caviar, Door Dash, GrubHub
Top 10 items all couriers should have
Top applications all couriers should have
Expenses as a Postmates courier
Amazon Flex
How do I get started with Amazon Flex?
Amazon Flex Onboarding
How to get the Amazon Flex App
How do you go online with Amazon Flex?
How to schedule blocks with Amazon Flex
Different type of delivery blocks (or shifts)
Which is better, Android or iOS on Amazon Flex?
The difference between Warehouse (packages) and Prime Now Deliveries
Which is better, packages or Prime now?
Warehouse location is important!
Start of your Amazon Flex Shift
Types of Amazon deliveries
2 hour deliveries
1 hour deliveries
Hot wheels
What takes priority in deliveries?
Late to pickup? Late deliveries?
Missed delivery?
Pay Structure of Amazon Flex (warehouse and Prime now)
How should you handle wait times?
Income potential of Amazon Flex
The biggest issue with Amazon Flex
Instacart
How do I get started with Instacart?
Instacart Onboarding
Zones are important!
Start of your Instacart Shift
Accepting Batches
Refund or Replace
Custom requests?
The need for speed!
How to shop faster
Checking out on Instacart
How to deal with multiple orders
Delivery and Parking Tips
How to get more Tips on Instacart
Detailed Explanation of the Service Fee
Why I love Costco
Tips for Costco
Money and Payouts
What to Wear
Postmates
How do I start with Postmates?
Postmates Onboarding
Going Online with Postmates
Scheduled or not scheduled?
Accepting Jobs
Different Kinds of Postmates Orders
What if Items are Unavailable
Payment for Food
The Delivery
Stacking Jobs
Pay Structure of Postmates
How should you handle wait times?
Income potential of Postmates
Common issues as a Postmates Driver
Caviar
How do I get started with Caviar?
Caviar onboarding
Going Online with Caviar
Scheduled or not scheduled?
Accepting Jobs
Advantages of Caviar
Picking up the delivery
The delivery
Stacking Jobs
Pay structure of Caviar
Income Potential of Caviar
The worst part about Caviar
DoorDash
How do I start with DoorDash?
Doordash Onboarding
How to go online with DoorDash
Accepting Jobs
Picking up the Delivery
Paying for the Food
The Delivery
Stacking Jobs
Pay Structure of DoorDash
Income potential of DoorDash
Issues with DoorDash
Your Instructor
I started driving for Lyft and Uber for more than three years year. I signed up for Lyft first and went through my mentor ride and started driving. My mentor didn't do much coaching so I had to learn a lot about Lyft on my own, aside with how the application work. After driving for a few weeks full time, I started driving on Uber as well. When I signed up for Uber, I did that for about two weeks full time trying to learn everything I can about Uber. After a few hundred trips between the two services within six weeks, I learned a lot about both services and how to navigate each service to maximize my earnings and also to get a high rating.
After about two months, I was invited to be a Lyft Mentor. Unfortunately, there was almost no training on how to be a Lyft Mentor so I jumped in head first into this role and learned on my own how to best mentor new drivers. I used a lot of the experience as a Lyft driver to coach new Lyft drivers how to get started and become awesome Lyft Drivers themselves. A good number of my mentees are now Lyft Mentors and I coached a few Lyft Mentors through their first few Mentor sessions.
About two years ago, I started to test out various delivery services, such as Postmates, Instacart, Doordash and Amazon Flex. I got lucky with getting into Amazon Flex rather quickly and learned the ropes pretty quickly. There were so many blocks last winter in Seattle so I was working many hours on Amazon Flex, which gave me the opportunity to learn about Amazon Flex and also test out various tapping strategies. In my spare time, I did Instacart when tips were still very good. Once Instacart started hiding tips, I devoted more time to Amazon Flex and rideshare.
I now use my knowledge and time to educate new and existing drivers about how to become great drivers as I have been through it all and have mentored and coach many other drivers to great driver ratings. I also developed a website to update drivers of the current policies and changes to each service to maximize their income and improve their driver ratings.
Frequently Asked Questions
When does the course start and finish?
The course starts now and never ends! It is a completely self-paced online course - you decide when you start and when you finish.
How long do I have access to the course?
How does lifetime access sound? After enrolling, you have unlimited access to this course for as long as you like - across any and all devices you own.
What if I am unhappy with the course?
We would never want you to be unhappy! If you are unsatisfied with your purchase, contact us in the first 30 days and we will give you a full refund.